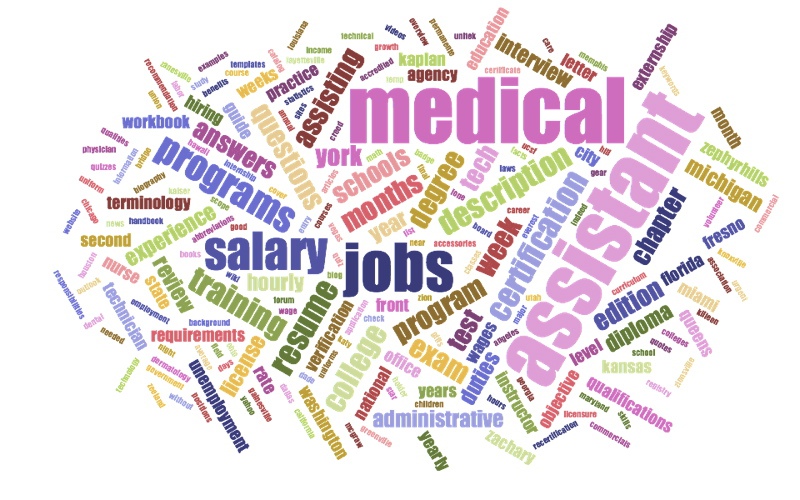 Interview With A Medical Assistant
Thanks to the anonymous interviewee for answering these questions about her years of experience as a medical assistant. We appreciate it.

What is your job? Where do you work?
At the present time I do medical transcribing. I was a medical assistant/transcriber for 12 years. I worked in private clinics, then became self employed and transcribed mostly insurance examination reports for private MD's.
How would you describe your job?
The job itself when I was working at clinics was enjoyable. I was always an independent contractor and did mostly fill-in for the regular staff when someone went on vacation or took leave to have a baby.
What are your job duties?
A medical assistant can do many things under the supervision of a registered nurse or LVN. My duties were part bookkeeping, filling out Medicare, Medicaid and Insurance forms for the patients, walking them from the waiting room to the various examination rooms, taking blood pressures, temperatures, pulse and writing down their main symptoms. Some of the people were long time patients so I pulled up their files and had them ready for the doctor or the nurse. I also was trusted with ordering the pharmaceuticals used at the clinics. I couldn't order narcotic drugs but I kept track of when we were running out of all other medications as well as things like bandages, rubbing alcohol, disposable gloves and other disposables used in exams. When the physician did an insurance exam for an injured worker, he would dictate into a tape recorder and I would play it back and transcribe it so he could send it off to the insurance company after he signed it. I formatted the exams correctly for this type of exam.
How did you get started in this profession?
During summer vacation in high school and during my college years, I worked in my uncle's office. He was an Internal Medicine physician. My mother was a registered nurse.
What sort of education or skillset does your job require?
This type of job, depending on how complicated you want to get with it, requires a high school diploma and a two year medical assistant program. Many community colleges offer this. I didn't have to take this because I worked under the supervision of my mother, who as a registered nurse and taught me everything I had to know, including giving subcutaneous injections (under the skin injections, not intravenous injections).
A person hoping to become a skilled medical assistant/transcriber has to enjoy working with people and has to have patience and compassion. People who are not feeling well can be grouchy. I worked in a geriatric practice, with elderly people – those over 60 years of age. Many of these people, in addition to having physical breakdowns and illnesses were depressed at their lack of control over their lives at the time so I used to talk to them when they needed a little cheering up or just someone to listen to their complaints. If you want a robotic job, this is not the place for you. What a person needs to get hired is basically a high school diploma or the equivalent and a job placement agency who will place that person in an entry level job at a clinic. After that, many medical assistants go on to get their nursing degree or they study a higher level and get their certification in Assisting.
What do you like about working at this profession?
I enjoyed working with people, allowing them to talk to me and seeing that I was making a difference in the lives of sometimes very lonely people. I learned their names and their conditions so that when they called for an appointment, I would be able to ask how their leg was, if the ulcer was healing, or even about their family if they had told me something about that. I wanted them to know that even though they were aging, they were still important. I also enjoyed medical transcribing, the terminology, learning about the various diseases, injuries and cures.
What could be better?
I think there should be a 4 year college program for Medical Assistants, just as there is for nursing and teaching. Being a medical assistant still does not have the professional reputation that other professions have. It's thought to be an unskilled job in some areas. This is far from true. I had to know how to give the preliminary exam, give subcutaneous injections, read a blood pressure and know when to notify the doctor right away if the patient's blood pressure was at a dangerous level, without panicking the patient, and be diplomatic at all times. I developed my typing skill during the 12 years so that I can now type about 85 words a minute. I learned how to transcribe from cassette tapes. Now of course, the equipment I use for my transcriptions is all digital. Those 12 years were like a 12 year course in school with pay. I have my own business doing medical and regular transcriptions, doing medical research for students who do not have the time to look up everything online and writing content for the websites that doctors and pharmaceutical companies set up. I feel that medical assisting is like an octopus. It has many arms extending out to grab many other opportunities.
How do you make money or get paid?
I got paid a salary at the clinic I worked for during the 12 years but I was considered an independent contractor and did my own taxes. I was issues a 1099 form every year. There were no bonuses. When the main clinic closed, I had a good reputation among doctors and simply did a small mailing to those clinics where I was know and began getting clients for my medical transcribing. Occasionally, I will go in to fill in for someone who is on vacation or on leave for various reasons. It saves the physicians the effort of finding and training a temporary worker. They know they can call on me and I already know the routine they want. A good transcriber/assistant can make about $15 to $20 an hour. However, anyone who wants to be an independent contractor in this profession has to hustle to get clinics on board. Word of mouth is the best advertisement for a self employed person.
How much money do you make?
During good years, I can make over $20,000. Keep in mind that I am single without dependents so this is sufficient for me to live securely. If I need more money, I can take on more work. There is always work out there for a good assistant or transcriber so the salary is flexible. This can be full time work or part time work.
What is the most challenging part of your job?
The most difficult part of this job these days is keeping up with all the new diseases, their spelling and the medications associated with them. There are also more foreign doctors practicing in the USA so foreign accents can be a problem in transcribing. Since I was a language major in college with a degree in French and Spanish, accents are not difficult for me once I get the rhythm of the speech.
What's the most rewarding thing you've done at your job?
One of our steady patients came in for her usual allergy shot. He husband had passed away from Parkinson's Disease. She had nursed him for almost 6 years. She was terribly depressed. We used to talk a bit when she would come to the office and now she just sat there and cried in the waiting room. There were no other patients around so I sat down and told her to tell me how she felt. She said she felt useless. It was what I suspected. She had no one to care for or care about. I told her that she was 70, in really good health except for her allergy and that she needed to figure out what she wanted to do with her life. I recommended that she get explore going back to school, maybe continuing educations courses and learn a another skill. She had been an elementary school teacher before she retired. She actually took my advice. When I next saw her, she told me she was taking a cake decorating course. She was a skilled baker. She used to bring us cakes at holiday times and they were wonderful. Her pies were also a treasure. She actually got a job with a major supplier of party good in our city and did the decorating of cakes, cookies and cupcakes for special occasions. I felt rather triumphant, like I had saved a life, which in a way I had. I saved her life from being a burden to her.
Where do you see this profession going – for both yourself, and for someone just starting?
There will probably always be a need for medical assistants and transcribers. I can't imagine any voice recognition technology being able to get all that terminology correct. One mistake can potentially cost someone their life if the mistake is in the pronunciation of a drug. Only a knowledgeable human transcribing a report can know that the drug matches the disease and that a drug with a similar pronunciation is for something entirely different. Anyone going into medical assisting or transcribing can be assured of steady work, either as an employee or as an independent contractor. And that's the benefit of this profession. You can do it the traditional way or you can be your own boss. But you have to be skilled in order to do it correctly and constantly keep up with the terminology, the pharmaceuticals and the needs of the patients.
What advice would do you wish you had when you started?
I didn't like the medical profession when I began working in my Uncle's clinic. I found illness depressing and also contagious, especially in flu season as I also worked there during Christmas vacation from school. But as I learned more about the possibilities for the future, I liked it more and more. I actually never went to school to train as a medical assistant/transcriber. That is my only regret but since I am a certified teacher where I live, I find that with a lot of dedication, and my mother to help me and supervise me when I worked at her clinic, I was able to be just as good as those who went through the 2 years community college program.
Would you recommend this profession to other people?
This is definitely a wonderful profession. There is a lot of job satisfaction if it's done the right way. It can be done as an employee with insurance and retirement benefits with room for advancement or it can be done as a self employed person. It can even be done as a second job with a person's main job being anything else.
Sources