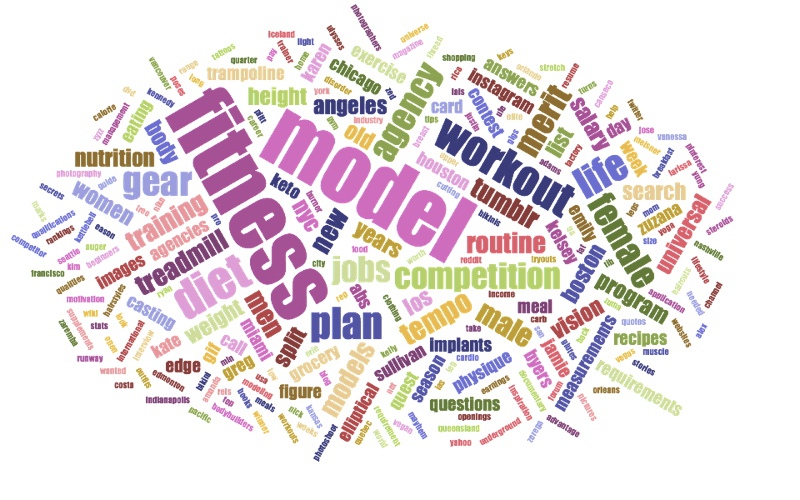 Interview With a Fitness Model
A very special thanks to Jackson Bloore for these very detailed answers about the surprisingly difficult life of a pro fitness model.

What is your job? Where do you work?
I'm a fitness model and regarding location you can do this job just about anywhere if you are willing to travel for work, however the largest number of jobs tend to be concentrated in New York followed by Los Angeles and then Portland. Portland sounds a bit odd, but Nike and Under Armour are located there. If you are looking to expand into television, New York or LA are a must.
How would you describe your job?
I work with various agencies across the country, I have to constantly utilize my relationships with casting directors or photographers, and I often have to just plain hustle in order to find and book as many jobs as possible. It's really like being an independent consultant. You have to take responsibility for your own career and often you have book jobs yourself. Most people think once they get an agent or agency they are all set – just sit back and let the jobs, money, and fame roll in! Think again. I was under this impression as well a long time ago then once the dream fades and reality sets in you have to get off your butt and get to work just to find work.
What are your job duties?
In terms of the actual work, most jobs are going to be print or television and are going to focus on your ability to perform a multitude of exercises over and over again with proper form. In the case of print you also have to hold strenuous positions in order to get shots while relaxing your face and looking as casual as possible! In the case of television if it is an infomercial or exercise shoot you will have to perform the same exercises sometimes a few hundred times a day with perfect form or at least form that visually looks perfect depending on the camera angle. I once did a two day infomercial shoot for an abdominal product – I must have done well over a thousand repetitions across two 8hr days of shooting while on calorie restriction and dehydrated. It can be painful and both physically and mentally challenging. Other jobs tend to be all over the board from romance novels to showrooms or even runway and tend to be much easier. Anything that doesn't require typical shoot prep of carb depletion and dehydration is considered an easy gig in my book.
How did you get started in this profession?
I got started by sending my pictures into a well-known fitness photographer. If you have ever noticed most fitness magazines will post the name of the photographer next to the image. I just found a name that seemed to be consistently in most magazines every single month. He thought I had potential and set up a test shoot with me. After the shoot he sold a few of the images to popular fitness magazines and I was published for the first time. Once you are published and start to build a portfolio it's fairly easy to get agencies interested in signing you.
What sort of education or skillset does your job require?
Technically, no eduction credentials are needed although on occasion it helps to have a personal training certification. Regarding skill-set I'd say the most important quality is you have to be a good people person, you have to be able to sell yourself and get people to like you in an instance. Think about it, in a casting for a job you may have anywhere from 2-5 min to meet someone, get them to like you, sell yourself to them, and convince them they would enjoy working with you. Additionally, I'd say client relationship skills when you are on the job and lastly business skills. Remember, you are essentially an independent contractor or a business of one. You are responsible for taxes, write offs, expense management, time management, etc.
I'd say you also have to intense body awareness and knowledge to be able to get your body to visually look as good as humanly possible. There are many factors that go into getting into top shape and then taking it to the next level in preparation for a shoot. There is also a mental toughness element and a large amount of self-discipline associated with this that are an absolute must if you are going to make it through a week of prep and a full day shoot when you are dehydrated and feel like death.
What do you like about working at this profession?
For me, I like the physical and mental challenge of a shoot. Try holding a single leg straight leg deadlift without shaking or falling over while holding a smile on your face as a photographer attempts to capture the exercise. All that after a week of carb depleting and while insanely dehydrated. Wait, the lighting is wrong – we need to do it again. Yeah, it can be a challenge but it's fun to test yourself and your limits… to see what you are really made of.
Obviously, the other thing I like is being published. Nothing makes up for all the hard work like seeing yourself in a magazine or having friends and family call up to say they ran across your picture in Men's Health.
What could be better?
Getting paid more would be better.
How do you make money or get paid?
It really depends on the job. Magazine and book print jobs typically pay very poorly anywhere between $150/day to maybe $1000/day for a book on the high end if you are lucky. Apparel print pays much better if you are working with top brands and can fetch a few thousand a day. Television typically pays the best and is often $1000/day on absolute low end to a few thousand per day on the high end. Keep in mind that anything booked with an agency requires a 20% agency cut right off the top and sometimes additional agency fees as well so the numbers can be deceiving. Also, keep in mind that with prep time baked in a shoot for $1,000/day doesn't sound so amazing anymore when you factor in the extra gym sessions leading up to the shoot, tanning, manicure (if needed), haircut, etc. in addition to the general and overall decline in mood that occurs with carb depleting and dehydrating all week.
The people that really make money in this business as models are the people that use the traditional print and television "fitness" work to leverage other business opportunities so you have to be an entrepreneur and a hustler as well. There is a reason that so many top fitness models come out with fitness products, informational products, online consulting services, or membership websites. If they don't they either have part-time or full-time jobs in addition to fitness modeling. Typically, fitness modeling alone will not earn you a very large yearly salary unless you book a major campaign, super bowl commercial, or something along those lines which doesn't happen to everyone and doesn't happen very often.
How much money do you make?
The range is all over the board and various greatly from person to person and even between genders as females tend to earn more. I've met people that didn't make anything and I've met people that make a few hundred thousand a year. Typically, any high earners are leveraging their modeling work for other opportunities.
What is the most challenging part of your job?
Shoot preparation and not being able to enjoy as much red wine as I'd like on a regular basis. The red wine thing seems silly, but I really like red wine 🙂 The wine is more of a symbol representing small little pleasures that I must avoid and sacrifice that sometimes annoy me but in the grand scheme of things – it's not a big deal.
What's the most rewarding thing you've done at your job?
For me the most rewarding aspect is being chosen to represent a product that literally teams of people have spent thousands of hours working on in an attempt to bring to market. While devising this product they had a vision in mind for the face/body/image to represent their brand and their product and out of everyone they picked you. It's flattering and humbling especially when you see how excited they get looking at the images or the video of you working with their product. Dozens of people, thousands of hours, and in the end they are thanking you for bringing it all together on the day of a shoot. If that doesn't make you feel good then I don't know what will.
Where do you see this profession going – for both yourself, and for someone just starting?
The industry is definitely changing, mostly due to the ease of content creation with blogs, YouTube, Facebook, etc. More and more people are taking a unique approach to this industry instead of going the standard route of getting pictures, getting an agent, and then booking jobs through your agent. A diverse skillset and ability to be creative and sell is becoming more important as people go from fitness model to fitness model/author/blogger/marketer/consultant/trainer/etc.
What advice would do you wish you had when you started?
I think it's advice that can be applied to other professions as well: Don't expect an agent or agency to do anything for you or even in your best interest. It sounds harsh but nobody is going to look after your career but you so take control of it and if you want it – go get it.
Would you recommend this profession to other people?
Absolutely, but you have to be in it for more than just getting published and definitely don't get into it thinking you are going to be rich and famous. So many people that workout just want to be in a magazine because they think it will make them rich or famous. That isn't enough drive or passion to endure the pain and difficulties you will inherently encounter on your quest. People that aren't absolutely insanely passionate about health or fitness will not make it.
Sources