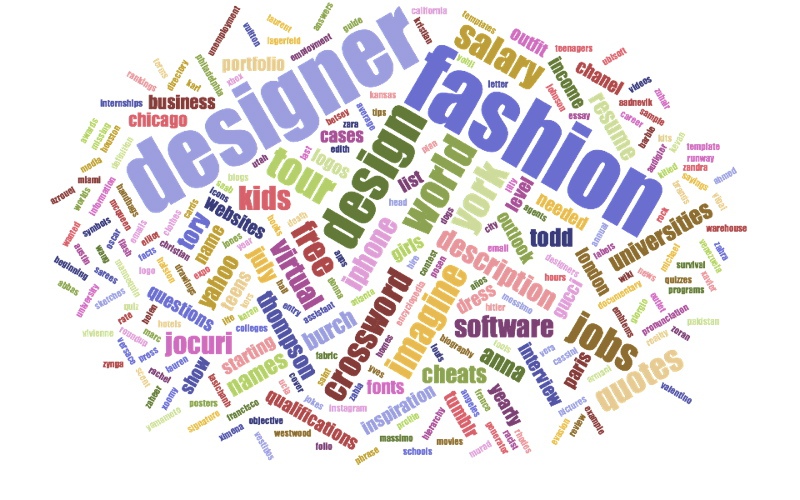 Interview About Being a Successful Fashion Designer
Thank you to the fashion entrepreneur who answered these questions about their work in the industry as a corporate buyer. If you are interested in being a fashion designer, this person's insight is very valuable – they are the person who has the power to buy your entire line and push a new trend to market.

What is your job? Where do you work?
My job is the buying and selling, both retail and wholesale, of clothing and accessories primarily for women. I focus on tops, dresses and costume jewelry. I work out of my home and the majority of my business is done online.
How would you describe your job?
My job is basically to anticipate the coming trends and supply my customers with new and innovative products/merchandise.
What are your job duties?
I travel and keep up with the incoming and current ideas and designs. I then pass on the best of my findings to my clients, guiding them towards the best incoming trends for their customer base.
How did you get started in this profession?
It all started with an internship in high school. I was too young to work full time but had a burning desire to get into fashion. An older friend pointed out to me that an unpaid internship might be what I needed. I attended an all girl private school and met a business owner at a career day. She offered me the opportunity to help out in her showroom and see the business of fashion hands on. I was able to leverage this opportunity into other internships, paid jobs, and freelance work.
What sort of education or skillset does your job require?
To be a fashion entrepreneur one needs a working knowledge of the industry, a strong network and relevant experience. A university degree is nice but not always necessary. In truth, if you don't have access, education may open some doors. But fashion is really about relationships; with your suppliers, your customers and other members of your business community. I went to 2 fashion schools, Johnson & Wales and FIT and hold a degree in Fashion Merchandising. However, it was my internships and work experience that allowed me to open and run my own business.
What do you like about working at this profession?
It is a life full of beautiful insanity. Every year is different and as I build my business I must constantly improve my performance, knowledge and network. It can be very lucrative and exciting and being a fashion entrepreneur is a daily challenge to be a better business person.
What could be better?
Working for yourself leaves you with no guarantees. Entrepreneurship forces you to self motivate and perform consistently and well. There is no golden parachute besides the one you create. There are no bonuses besides the bonus of repeat business, which must be earned and cared for. If you are not the type of person that can accomplish this, then a regular 9 to 5 will offer you more in the way of security. But done correctly, business ownership is far more rewarding.
How do you make money or get paid?
My clients pay me directly per job/order.
How much money do you make?
Someone working in the field would make between $50,000- $90,000.
But considering that I own the company there are a lot of factor to consider; how well the season/ selection did, what was the trend for the season, was I on target and etc. All these factors equal money for my company.
What is the most challenging part of your job?
The most challenging part of my job is to always or almost always be right. I stake my business reputation and money on my ability to forecast and deliver relevant and reliable ideas and merchandise. There are forecasting companies that predict/dictate the coming fashion trends and to thrive as a business I must do the same and so much more.
What's the most rewarding thing you've done at your job?
Analyzed the market accurately and provided goods and services that were relevant and ahead of the coming trends. The ability to predict the future reliably is rare; the fashion industry can be volatile. Predicting the next big or even not so big thing is really good. Being able to predict and capitalize on the next big thing leaves you feeling wonderful.
Where do you see this profession going – for both yourself, and for someone just starting?
I think that the big companies will continue to swallow the smaller ones as huge corporations continue to dominate the fashion market. But the beauty of the fashion industry is that the bigger a company gets the harder it is to innovate and see around the corners. Today, fashion is largely dependent upon innovation and new ways of looking at things. This leaves the door open to smaller companies, freelancers, new designers etc to get into the market and thrive.
What advice would do you wish you had when you started?
I had a well rounded introduction to the fashion business and this has carried me far. The only thing I wish I knew in hindsight is how important a firm understanding of business and business law is in this industry that is built on imagination and trends. Also, I wish someone had told me early on to be a lot more flexible in my thinking. I have met successful designers that at one time were history professors; preconceived notions on people, or places or anything else can often limit your ability to spot and capitalize upon an opportunity.
Would you recommend this profession to other people?
Yes. The fashion industry if filled with competition and dreamers of all types. But if you can step back and try to think outside of the box you can create something special. Don't allow yourself to be bound into a 9 to 5 perspective. Fashion is one of those careers where you can still dream up something new and pull it off. You can make a great living producing the same thing as a bigger company with a long history, but serving an ignored demographic or location. You can create something new and have big companies fight for the right to help you bring it to market. You can still create something that can be useful and enjoyable to large or small groups of people. The sky is the limit in the fashion industry,there is always a piece of the pie that a industry hopeful can carve out as long as you know your niche.
Sources