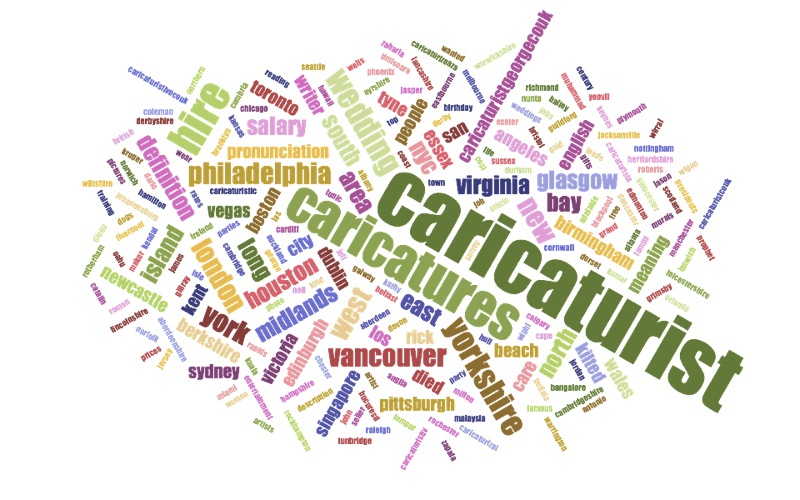 Interview With a Caricaturist
Thanks to our caricaturist for answering these questions about the interesting work she does.

What is your job? Where do you work?
I am an event Caricaturist.
I work for myself mainly and usually outsourced by firms, groups or people. My profession allows me to be mobile so I work almost anywhere. From the street corner to weddings, to bank lobbies to phone launches. I even work from home selling drawings on the internet.
How would you describe your job?
Drawing caricatures at events is a simple way to describe it. A caricature is a humorous drawing of people. A somewhat spontaneous illustration, at times done on spot. Feature at times are exaggerated or the person is simply cartoonised.
So I go to an event and I draw as many people as I can while having a laugh with them about the final drawing.
What are your job duties?
Caricatures are crowd grabbers so where I set up its bound to attract people. I such a case I assist with promotions and in other cases I provide, by drawing, tokens for guest.
How did you get started in this profession?
In high school as a class assignment, I liked the idea of providing a different perspective of a person.
A few years ago I was inbetween jobs and was invited to a open air cultural show. I said I would take a chance set up and see how much cash I can make. It was successful and from then on I continued.
What sort of education or skillset does your job require?
You must have a drawing (portraiture, human figure, animation, illustration) skill. Almost any level would do. Caricatures take many forms so style is important. Practice capturing the likeness of people or you will get rejected.
Additional artistic abilities will help increase your skill, thus increasing the quality and speed of your work which will mean more cash. So read, practice, do short courses.
I recently moved to digital caricatures. It's the same as paper but a transfer of principle and skill. I use either my tablet or phone.
What do you like about working at this profession?
The freedom to set my own prices, attend functions from wedding to phone luanches, meeting and interacting with people who appreciate art and working from home.
It brings a level of joy and appreciation to see someone laugh at them self afterwards.
This is also a small business which is my second job.
What could be better?
Accuracy and speed is a must. The more I can draw in an hour accurately, the more I can earn in the long run.
How do you make money or get paid?
It depends.
Clients hire me by the hour or per person. When I am out on my own, I charge for black and white and colour separately to accommodate for people who want but dont have much cash.
How much money do you make?
Someone with average skill and speed can make $300-$600 for some jobs from clients. Out on their own they could make $250 a day or more in a busy spot.
In one year doing over 4 major promotions, 3 Christmas parties, 1 wedding and over 1300 individual caricatures, all as side jobs, I made $45000.00.
The better you are, the more in demand you will be.
What is the most challenging part of your job?
Again, accuracy. They hours might be long as well, especially for promotions so its a strain on my eyes and hands. One time I did 60 caricatures straight in an uncomfortable chair for a promoter.
There are slow periods also where you get no jobs at all. Be ready by keep practising.
What's the most rewarding thing you've done at your job?
I have visited special needs schools, charities for the poor and homeless, orphanages, hospitals and done free caricatures.
It's good to give back, especially to those who do not have much.
Where do you see this profession going – for both yourself, and for someone just starting?
A bigger business. Maybe train a team so I can be more than one place at once.
Keeping up to date with new technologies to provide better services is a must.
What advice would do you wish you had when you started?
Be ready to get rejected. A lot!
Its an interpretation, remind the client of that.
Dont be prideful of your own work.
Practice!
Would you recommend this profession to other people?
Yes. Even creative doodlers have ventured into this and have scored big.
Sources